"Our sewer system did not fail last night," Justin Brannan, chair of the New York City Council Committee on Resiliency and Waterfronts, stated on Thursday, September 2.
"Our sewer system worked exactly as it was designed to work. The problem is (it was) designed 100 years ago before … these once-in-a-lifetime storms every two weeks."
Hurricane Ida caused record rainfall in the five boroughs on September 1, less than two weeks after downpours from Tropical Storm Henri brought flooding to New York on August 21.
New York isn't alone in being unprepared for more frequent and more intense extreme rainfall in addition to street flooding. Other extreme flooding events - like Hurricane Harvey's tour through Texas and Louisiana in 2018 - have shown that huge amounts of rain dumped on expanses of concrete and pavement can be a recipe for disaster.
Runoff from torrential rainfall on impermeable surfaces doesn't get absorbed. Instead, it overloads storm drains and even the subway system in the case of New York.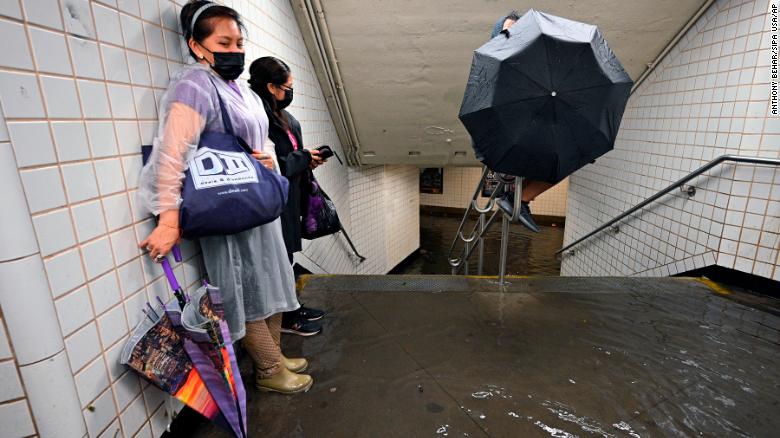 Green Infrastructure

Philip Orton, a professor and fluid dynamics researcher at Stevens Institute of Technology, advises that climate resiliency investments can begin with better storm drainage. Replacing aging infrastructure with larger piper that can collect and convey greater volumes of water. Replacing pavement with green infrastructure or nature-based solutions captures rain and reduces runoff into drainage systems. Timely cleaning of storm drains and preventing trash from entering and blocking the stormdrain system are also effective and essential flood mitigation tactics.
Restoring wetlands and streams also lessens the burden on storm sewer networks. "Floods are (often) occurring where there was a historical creek -- It's still the lowest-lying point in a neighborhood," Orton explained. "There's definitely been increasing interest in recreating those pathways for water to flow... stopping development from occurring in flood-prone areas."
Flood maps produced by the U.S. Federal Emergency Management Agency (FEMA) are used by many cities to understand their flood risk, but the tool is not available for every community. FEMA hasn't mapped every area, and the places it has mapped don't account for flooding caused by extreme weather.
Heavy Rainfall

"People focus on hurricanes, but the truth is that extreme rain, which can come in the aftermath of a hurricane, are the events we need to be designing for," Laura Clemons, a certified floodplain manager (an expert in flood mapping) who formerly advised the New York City Housing Authority on resilience strategies.
"We knew this (2021) event was coming," said Clemons, now the founder of Collaborative Communities Management Company, working on hazard mitigation projects. "The data was very clear that the next disaster to hit New York City wasn't going to be a (storm) surge event, it was going to be an extreme rain event."
Collecting rainfall measurements, or hydrometric data, is key for flood flow estimation. Continuous rain, flow and level data is then used to improve rainfall-runoff method calculations. If hydrometric data is unavailable for a catchment, the temporary installation of a rain gage for as short as 2 years can provide a significant improvement in the reliability of flood flow estimates. This is particularly important for highly permeable, heavily urbanized catchments.
Kauai, Hawai'i recorded the highest rainfall record in the U.S. 49.69 in (1262 mm) in 24 hours on 15 April 2018.