Across the Sierra Nevada, partnerships involving Yuba Water Agency, Nevada Irrigation District, and El Dorado Irrigation District are leading multiple projects that aim to restore resilience to vital watersheds.
Healthy headwaters forests increase water supply reliability, improve water quality, reduce wildfire impacts, increase renewable energy supplies, improve response to climate change, and enhance habitat.
During the past year, the Agency has launched multiple forest management projects within the Yuba River watershed in Tahoe National Forest. A Forest Resilience Bond, a public-private funding partnership formed through Blue Forest Conservation, matches private foundations who invest in forest restoration projects; as beneficiaries, public agencies agree to repay investors over time.
Actual restoration is now in progress and includes ecologically-based tree thinning, meadow restoration, prescribed burning, and invasive species management. The work is creating a supply and thus, a market for wood waste and a 3-MW biomass plant, which is now in the planning phase.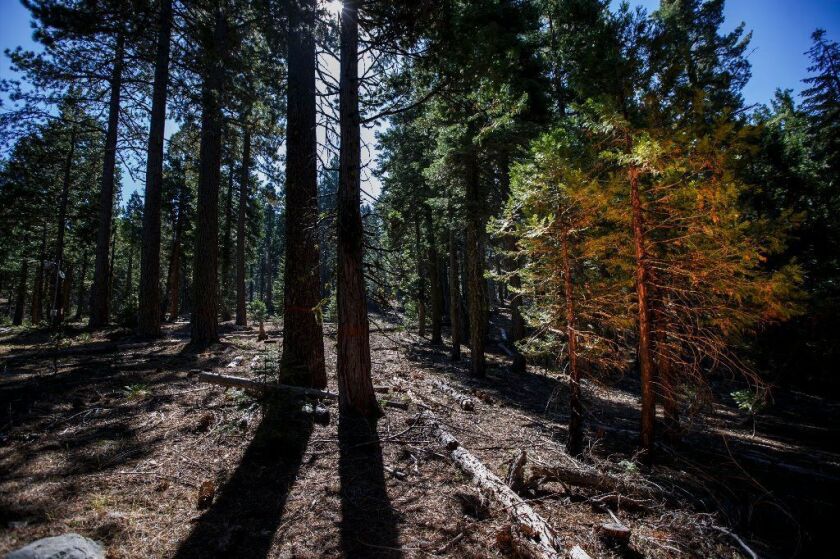 In the Stanislaus-Tuolumne Experimental Forest, one area, left, was cleared of undergrowth and small trees, making it less fire prone than the denser, untreated area on the right. Blue Forest is financing similar work in the Tahoe National Forest. photo credit: Marcus Yam, Los Angeles Times
NID recently won a $981,000 grant from the Sierra Nevada Conservancy to continue a fuels reduction program, which began in 2013. Scheduled for completion by January, 2022, the latest phase will treat 300 acres of forested land northeast of Grass Valley. Within its territory, the District has treated 466 acres of forest in 2018 and 2019.
Removal of small diameter trees and shrubs reduces fire fuels and allows more water to flow from the watershed before being absorbed by vegetation through evapotranspiration. Selectively thinned forests also grow faster, allowing trees to capture more carbon and reducing the effects of climate change.
EID was awarded three grants from the California Department of Forestry & Fire Protection, under the California Climate Investments Fire Prevention Grant Program, in 2018. Vegetation management activities occur on about 522 acres within District territory in the Placerville area, east of Sacramento.
A partnership with the U.S. Forest Service, Eldorado National Forest and Sierra Nevada Conservancy enables a forest restoration project in the Caples Lake area within the South Fork American River Watershed. Accumulated fuels associated with a century of fire suppression are being addressed.