Water Temperature
According to the (U.S.) National Oceanic and Atmospheric Administration (NOAA) this year, higher surface water temperatures have been recorded across all five of the Great Lakes. Without much wind or rain, warmer surface water temperatures cannot mix with cooler water at deeper levels in the lake.
Andrew Bramburger, VP of the International Association for Great Lakes Research (IAGLR) and research scientist with Environment and Climate Change Canada (ECCC) said temperatures are above the 30-year average.
Dr. Kent Moore, professor of atmospheric physics at the University of Toronto Mississauga, has noted an increase between three and five degrees Celsius. He informed The Toronto Star that surface temperatures have been higher than usual since last fall.
Sustained heat is a stressor -- increasing the likelihood of harmful algae blooms (HABs) as well as impacts on aquatic ecosystems. Fish and other biological species will react more immediately, while their overall ecosystem will adapt eventually. Biologists may observe fish spawning or trees budding earlier than during their typical seasons.
Algal Blooms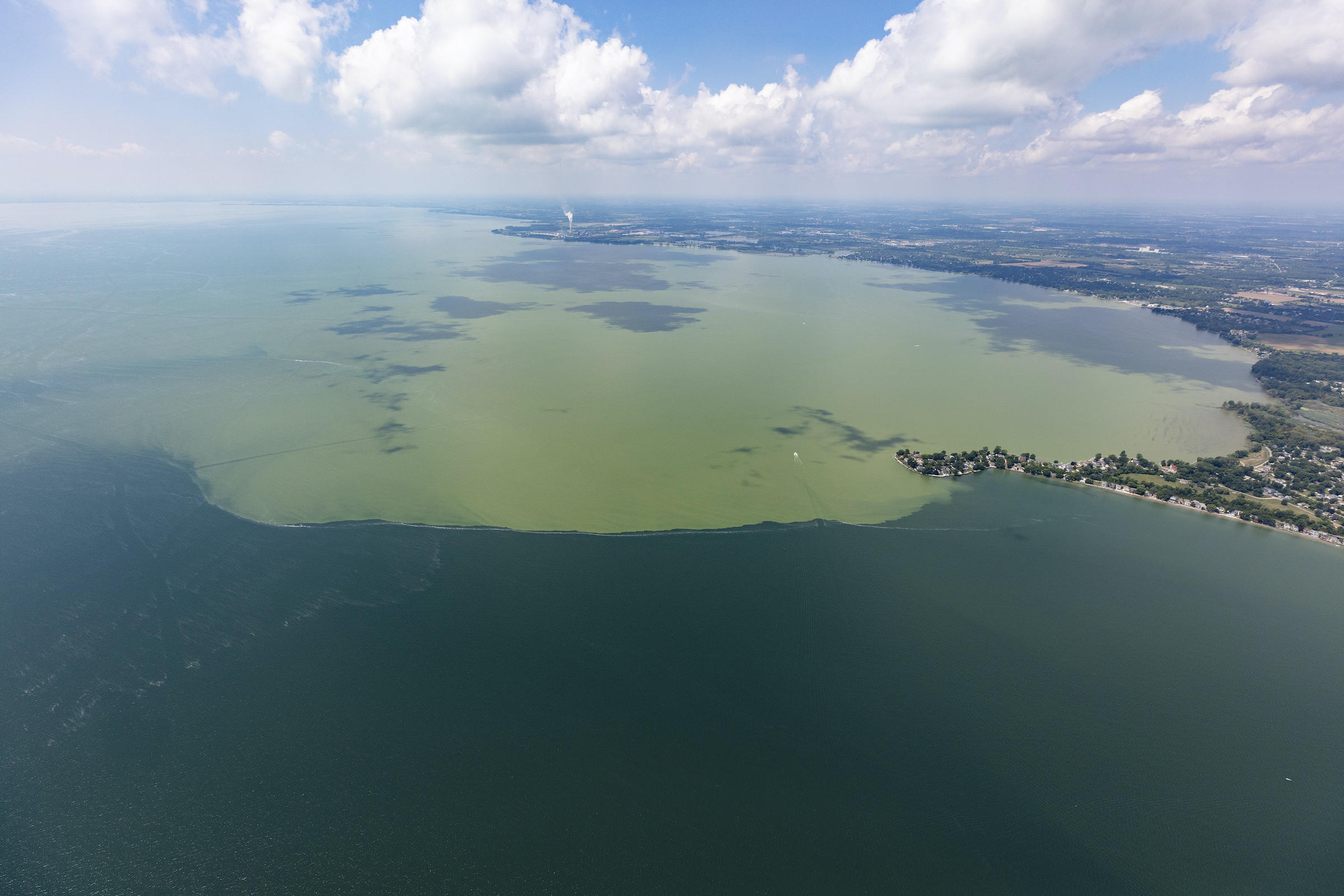 Water quality monitoring is being performed more frequently, between July and September, as heavy concentrations of blue-green algae commonly form in hot weather in lakes and reservoirs in areas of shallow, slow moving or still water.
Skin irritation, sore throat, cramps or diarrhea can occur from swimming or drinking affected water. Some blooms may be toxic due to cyanobacteria and result in shellfish and fish kills. Blooms typically last up to three weeks, during which time recreational beach closures, fish bans and notices are in effect.
NOAA Great Lakes Environmental Research Laboratory scientist Craig Stow cautions that other parts of the lake water may look 'only slightly green' but can still be toxic. "Sometimes (algae are) dispersed in the water and still producing toxins or other nuisance kind of effects." Blooms appear as algae feed on an excess of nitrogen and phosphorus, which agricultural runoff and rivers flush into lakes.
Michigan Department of Agriculture and Rural Development (MDARD) has outlined steps to lessen phosphorus levels via collection and analysis of data that inform ongoing adjustments to work plans. James Johnson, Director of Environmental Stewardship Division acknowledges that fields differ and advises growers to implement a variety of Best Management Practices (BMPs) field by field. Water quality improvements can be achieved through structural, vegetative or managerial practices.
Acidification
In addition, NOAA is funding a new 10-year study of acidification in the Great Lakes, coastlines and oceans. Water naturally absorbs carbon dioxide from the atmosphere. However, excessive algal growth and pollution are accelerating acidification, causing significant changes in water chemistry and ecosystems.
Research findings are anticipated to better understand environmental impacts on marine life as well as to sustain jobs, communities and commerce dependent on the fishing and shellfish industry.
Targets of the research plan include expansion and advancement of observing systems and technologies, and the generation of products and tools that support decisions, adaptation, and resilience to acidification.
Flood Risk and Erosion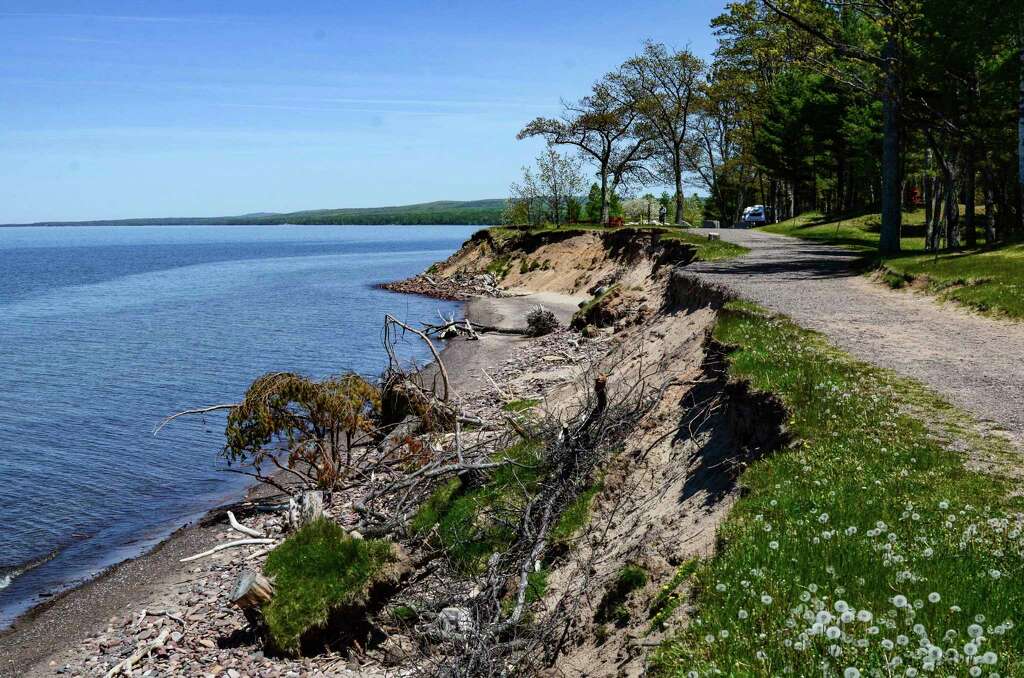 In 2020 and 2019 several monthly record high average water levels recorded on Lake Erie are exacerbating erosion and making shorelines vulnerable to flooding.
Jason Wintermute, Manager of Watershed and Information Services at Lower Thames Valley Conservation Authority has issued a flood watch for the entire month of August, 2020. Summer thunderstorms and severe weather, as well as strong winds, can quickly make record high water levels destructive.
Water levels in Lake Erie and Lake St. Clair are predicted to drop by 10 cm over the month but residents and business owners should be aware of local conditions, mitigate risks in the near future, and become more resilient in the long term as environmental challenges are inevitable.
Dr. Blair Feltmate, Chair of the Intact Centre on Climate Adaptation at the University of Waterloo, recently published a report entitled Climate Change and the Preparedness of Canadian Provinces and Territories to limit Flood Risk. As climate change brings bigger flood risks every year, provincial governments are urged to update flood maps every five to seven years. Unfortunately, research found that many maps are outdated despite available research and knowledge to mitigate higher risks, either with public infrastructure or individual homeowner efforts. In particular, two provinces haven't updated flood maps in 'more than two decades.'
Along the Lake Ontario shoreline and St. Lawrence River, New York State (NYS) Resiliency and Economic Development Initiative (REDI) stakeholders are evaluating projects that emphasize shoreline stabilization, natural or nature-based features, and green infrastructure as rising waters have become a 'recurring situation' according to Patrick A. Murphy, NYS Homeland Security and Emergency Services Commissioner.