Led by researchers at University of Nevada, Reno (UNR) and the Desert Research Institute (DRI) and published in Environmental Research Letters, a new study identifies three major factors that influence snowmelt-driven water supplies and thus, water management.
Factors that better predict the impact of climate change on critical snowmelt-driven water supplies:
amount of total winter snowfall is available at the end of the winter
rate at which snow melts
when snow melts
The lack of certainty and reliability of freshwater from winter snowpack is a serious threat for water managers with a challenging job of ensuring a reliable water supply to 40 million agricultural, urban, and recreational users.
A 3-factor framework developed from literature review and decades of experience from senior researchers:
Snow season water vapor fluxes
"How much snow is available at the end of winter?"
Throughout the winter, water stored in snowpacks is "lost" to the atmosphere via evaporation and sublimation. As winter weather warms, these losses are likely to increase and lessens future streamflow.


Intensity of liquid water inputs
"How fast is water from snowmelt and/or rain reaching the ground?"
The rate at which precipitation reaches the ground impacts where water runs off. Warmer winters mean more intense winter rainfall, which research shows can lead to more streamflow.


Synchrony between water and energy inputs
"When is water from snowmelt and/or rain available vs. when we most need it?"
Unlike rain runoff, snow stays on the ground after it falls. Snowpack functions as temporary (and free) water storage, which (historically) release water into streams in the late spring and early summer -- when water demand from farms and cities increases. Less snow means less water availability for later in the year, especially summer.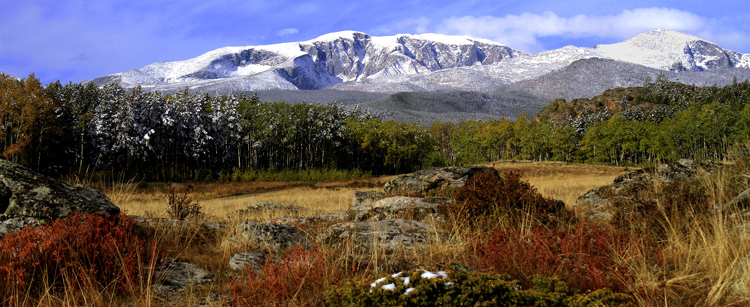 As winter snowpack from Big Horn Mountains melts during the year, water supplies farms and cities in Montana. photo credit BigHornMountains.com
Open data analysis from 30-plus years and 537 watersheds across the U.S. also revealed geographic regions where mountain water supplies respond differently to climate change.
"Particularly in the Western U.S, snow is really the backbone of our water supply systems," said Beatrice Gordon, the lead author and a Ph.D. student at UNR.
Streamflow in the Great Basin is particularly sensitive to changes in all three mechanisms mentioned above, making water management predictions an acute challenge in this region.
However, nearby, just on the other side of Donner Pass in the Sierra Nevada mountains, the research shows that how fast water reaches the ground surface and when water is available will be more important than how much snow is lost to the atmosphere via evaporation and sublimation.
These findings only scratch the surface as Dr. Adrian Harpold along with Dr. Gabrielle Boisrame and Dr. Rosemary Carroll of DRI, lead a study on "SNOWPACs," a USDA-sponsored project.
Harpold emphasized the "need to characterize variable changes in streamflow in the Intermountain West and challenging reservoir management that are critical to agricultural water supplies."
Next, the team will focus on understanding the impact of these streamflow changes on agriculturally dominated basins including the Walker River Basin, which supplies water for agriculture in Nevada.