News
3D heatmaps transform feasibility analysis
October 23, 2023
New intelligent data visualization features help manufacturing professionals detection of costly errors even earlier in the process.
3D heatmaps and curvature analysis top the latest enhancements to 3DViewStation, KISTERS CAD data visualization software.
In today's complex product design landscape, pragmatic and efficient collaboration is critical to controlling costs. 3DViewStation vividly displays critical areas through advanced analysis methods. Extended heat maps, akin to thermal images, display an intuitive representation of complex designs. False color displays empower designers, manufacturing and sales partners to quickly identify problematic areas at a glance. Users can customize colors, reverse colors, select solid or patterned shading, and set minimum and maximum values to aid rapid detection of potential defects.
Even inexperienced users are able to quickly record, evaluate results and correct product design flaws with the intuitive user experience.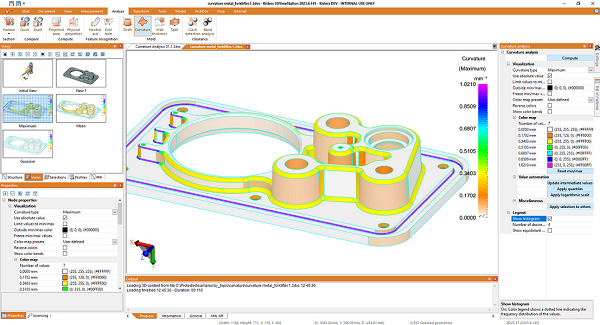 The benefits of 3d heatmaps extend beyond cast or injection-molded plastic manufacturing for the auto industry. The new function detects collision in machine construction, ensuring precision in planning and when integrated with our curvature analysis, it supports accurate calculations for sheet metal cutting and usage.
According to Craig Impastato, U.S. Sales Director for 3DViewStation, "The heat map is now available where minimum distances play a central role, such as in vehicle, machine or plant construction. With just one click, users can see critical distances between individual components or assemblies as colors clearly show components according to user-defined (distance) values."
Dedicated to empowering decisions driven by data, KISTERS continually its software to streamline pre-production analysis and enhance quality assurance. Heatmaps and curvature analysis ease data interpretation, saving time and costs, while fostering collaboration.
Watch a 8-minute demonstration video of these enhancements.
Read the latest 3DViewStation developments in detail at www.3dviewstation.com/news/blog.html
Share this