News
Hillslopes' steepness, seismic activity raise landslide risk
October 31, 2022
Study finds precipitation, aridity lessor factors to floods.
The University of Kansas continental-scale study of hillslopes, said to cover about 90% of the Earth's landmass, examined their connectivity and ability to channel stormwater runoff and debris into valleys and wetlands.
Recently published in Geophysical Research Letters, the study incorporated data from sources like digital-elevation models created by the U.S. Geological Survey (USGS), the Global Earthquake Model, the North American Land Data Assimilation System, the Global Landslide Catalog, and the Dartmouth Flood Observatory database.
Lead author Admin Husic and the researchers found the factors that most influence connectivity are tectonic factors like river steepness and seismic activity — as opposed to climatic factors like precipitation and aridity.
KU researchers further worked with The Consortium of Universities for the Advancement of Hydrologic Sciences, Inc. (CUAHSI) to produce the open-access digital tool "Index of Connectivity Mapper" for other researchers and the public.
Using supercomputers at the University of Kansas, the researchers "created these structural connectivity maps for every 10-meter-by-10-meter square grid for the entire United States, about 75 billion locations."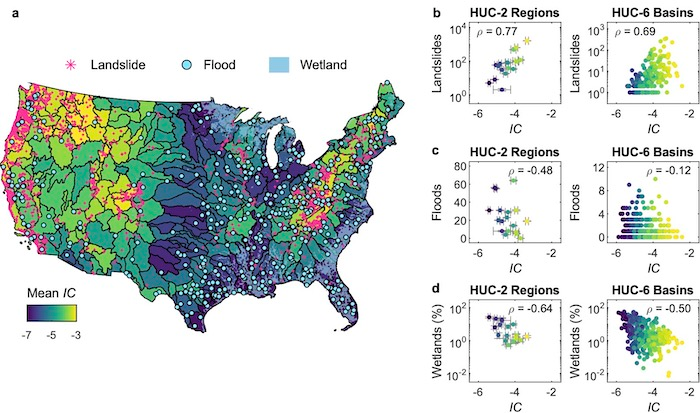 The University of Kansas hillslope structural connectivity maps correlate the study's Index of Connectivity with the occurrence of landslides, floods and wetlands.
The maps are intended to assist an array of environmental scientists and land managers. Husic said, "An ecologist may want to understand hillslopes' contribution of water and nutrients to a river and impacts to the aquatic ecosystem… On the other hand, an agricultural land manager may be interested in finding hotspots of soil erosion or deposition, which is possible through investigation of our structural connectivity maps."
"If we can understand how hillslopes respond to rainfall inputs, we will be better able to predict potential future responses," commented Husic, "Looking forward, an important consideration is the increased intensity of (storm) events … (and) the amount of rainfall absorbed by hillslopes versus (that) transmitted to rivers."
Share this