News
Wildfires call for long-term water quality vigilance
November 20, 2018
Rain won't be toxic; sediment & chemical runoff into waters threaten clean water sources.
While flames from the Camp Fire, approximately 90 miles north of our office, have retreated from view, smoke continues to smother metropolitan areas hundreds of miles beyond the wildfire. Air quality over Sacramento and San Francisco during the week November 15 was listed as the worst in the world, displacing prevailing smog hotspots in China and India.
Unhealthy levels of particulate matter, the toxic mixture of solid particles and liquid droplets in the air, across the Sacramento Valley and San Francisco Bay Area still prompt people to curb any time and activity outdoors. Rain prior to Thanksgiving is eagerly expected to clean out the skies, but it also brings risk of flooding, mudslides and debris flows to burn scar areas where the town of Paradise once was.
Rain isn't toxic, but runoff of sediment & chemicals into streams, rivers, lakes may have substantial water quality impacts.
The loss of roots and vegetation which typically anchor sediment means wildfire contaminants threaten clean water supplies. Disruption of potable water supply and diversion of water away from hydro power generation to fight fires can commonly result. Unhealthy aquatic habitats also kill fish and plants.
Water quality concerns aren't isolated to Northern California. In Southern California, the Woolsey Fire straddled Ventura and Los Angeles counties. Adjacent counties of Orange, Riverside and San Bernardino also experienced fires earlier this year. In August alone skies over Oregon, Washington, and the Canadian province of British Columbia were darkened by blazes as well.1,2
"We learned from the Thomas Fire (in Santa Barbara and Ventura counties) in 2017 and subsequent mudslides, there will likely be severe water quality issues once it rains… stormwater runoff can bring high levels of nutrients, pesticides… heavy metals, household chemicals, sewage or untreated wastewater from damaged infrastructure to waters," warns Bill Hickman, Southern California Regional Manager at the Surfrider Foundation.3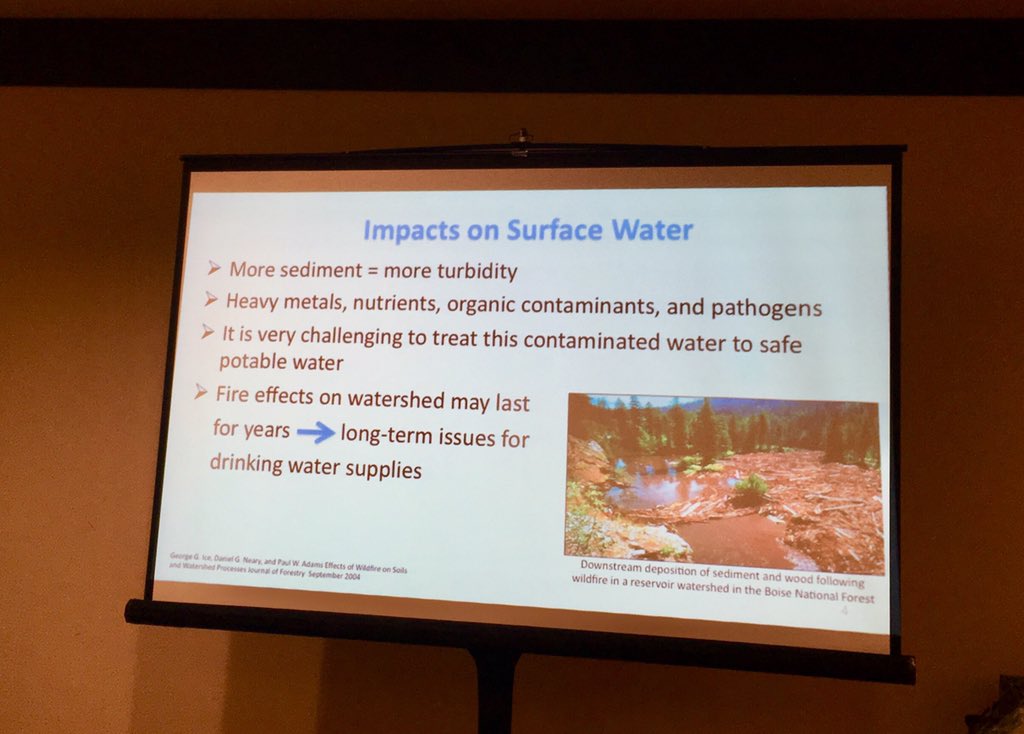 Water quality monitoring
Fortunately, several of these fast-growing counties are committed to sustainability and they implement strategic programs to monitor water levels and water quality. With the large influx of residents and businesses to the Inland Empire, Riverside County Flood Control and Water Conservation District performs early detection and flood warning services besides stormwater quality inspection, management and reporting of NPDES compliance.
The large inventory of monitoring locations with a variety of inspection objectives, frequencies, extensive lab orders and corresponding test results requires strict data integrity, metadata management, automated data checkers to streamline both the complexity and time consumed by MS4 program reporting mandates. As the rainy season starts, closer attention to debris in stormwater channels will likely increase water quality testing to ensure public safety.
The responsibility to protect residents is shared with drinking water utilities. Minimizing vulnerability to drinking water systems isn't new to those located in major urban centers. Multi-tiered early contamination warning systems encompass extensive watershed monitoring and the scrutiny of a team of hydrology, limnology and pathogen experts.
Medium- and small scale utilities may not have as many professionals, but similarly advanced water quality software is available to support rigorous data checks on many water quality parameters and alert managers when attention or action is needed. Utilities with fewer staff members have more to gain overall from computerized quality assurance, notifications and reporting as employees often fulfill a wider array of tasks.
Fallout from wildfires requires long-term vigilance for water quality & boosts climate resilience.
In Washington state, Pierce and Snohomish counties have been maintaining long-term hydrologic and water quality records without the added duress of wildfires. Automation of data collection from a variety of sources and data validation assure water resource managers and modelers that they have access to quality-controlled information to reduce flood risks and prevent water pollution. Beyond continuous and discrete monitoring of area waterways using dataloggers and sondes, water information systems now take into account a greater number of parameters and integrate bioassessments.
While Pierce County is expecting stronger storms, increased stormwater runoff and flooding impacts in the near term, it recognizes the combination of hotter, drier summers pose more wildfire risk.4 Buildup of analytical capacity and climate resilience aren't the only benefits. The public education program is now enhanced with a water data web portal. A dynamic map and filter provides visitors more options to view, download or export information.
1 B. Romano, "Weekend lightning, wind spread wildfires across Washington state," Seattle Times, 8/12/2018, www.seattletimes.com/seattle-news/weekend-lightning-wind-spread-wildfires-across-washington-state/
2 D. DeMay, "Seattle area mostly rid of wildfire smoke Friday…," Seattle Post-Intelligencer, 8/19/2018, www.seattlepi.com/g00/washington-wildfires/article/Smoke-earlier-expected-seattle-air-quality-13163861.php
3 D. Heyden, "After Woolsey Fire, mudslides could bring more devastation," The Inertia, 11/16/2018, www.theinertia.com/surf/mudslide-risk-malibu-water-quality-thomas-fire/
4 "Climate Change Resilience," Pierce County, www.co.pierce.wa.us/5652/Climate-Change-Resilience
Share this